MUSIC IS A PERFORMING ART, and these demands are presented in the context of the rehearsal process. As students work with their music teacher over a prolonged period of time, they become accustomed to this process as they apply it to a constantly expanding repertoire. Carefully chosen by the teacher to present appropriate new challenges, the selected material develops their musical and technical skill sets, their knowledge and understanding of the art form, and perhaps most importantly, their own awareness of themselves as artists, as human beings, and as learners.
Guiding each musician down their path towards self and sound becoming intertwined into a new, living creation, existing only in the moment, is a journey of discovery, magic, and awareness of the infinite.
—Neal Cary
Principal Cello, Richmond Symphony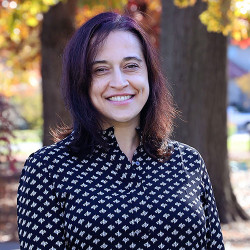 Dr. Magdalena Adamek
Piano
Dr. Magdalena Adamek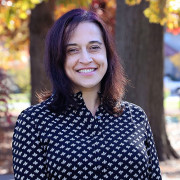 Pianist Magdalena Adamek has enjoyed a vibrant musical career as a soloist, collaborative pianist, and a teacher. Her performing career includes numerous recitals across Poland, Germany, Austria, Lithuania, France, China, USA, and Canada, with repertoire ranging from the classical period to the contemporary music. Her long-term artistic project involves promoting piano music by composers from her native country Fryderyk Chopin, Juliusz Zarebski, Karol Szymanowski, Maria Szymanowska, Feliks Nowowiejski, and others. Her long-term research on the piano works by Feliks Nowowiejski has led to world premiere recordings of the composer's piano solo works, the lecture-recitals, performances, a book The Unknown Face of Feliks Nowowiejski: The Piano Works (VDM, 2005), and several articles about the composer contributed as part of the international scholarly conference "The Musical Culture of Warmia and Masuria", held in Barczewo, Poland in 2016.
Magdalena Adamek is the recipient of numerous prestigious scholarly and performing awards, including Izaak Walton Killam Memorial Scholarship, Dissertation Fellowship, Mary Louise Imrie Graduate Award, FS Chia PhD Scholarship, Beryl Barns Memorial Graduate Scholarship, Harriet Snowball Winspear Graduate Prize in Performing Arts scholarship (University of Alberta), and also Marek Jablonski Piano Scholarship for the Banff International Keyboard Festival and a scholarship by Polish Ministry of Culture and National Heritage (awarded twice). She is also awinner of the second prize and a special distinction for the best performance of piano works by Frederick Chopin at the International Milosz Magin Piano Competition in Paris, 3rd prize in the piano trio category at the Kiejstut Bacewicz International Chamber Music Competition in Łódz, Poland, 3rd prize at the National Piano Competition in Warsaw, and distinction at the National Chamber Music Competition in Warsaw. She also represented Poland at the II European Piano Forum at the Hochschule der Künste in Berlin, Germany.
Adamek's projects have been generously supported by Wirth Institute for Austrian and Central European Studies at the University of Alberta, The Kosciuszko Foundation, The Chopin Council of Virginia, the Polonia Foundation of Alberta, Polish Culture Society of Edmonton, Polish Federation of Women in Edmonton, Polish Combatants Society of Edmonton, Consulate General of the Republic of Poland in Vancouver, the Alberta Registered Music Teachers' Association.
The pianist's discography includes five compact discs for an independent Polish label Acte Prèalable with world premiere recordings of the works by Polish composers (Feliks Nowowiejski, Milosz Magin, Romuald Twardowski, Jozef Elsner), and CD Romantic Central Europe, which was made in collaboration with the Wirth Institute of Austrian and Central European Studies at the University of Alberta. Her performances have been broadcasted on internationally, including CBC Canada, Polish National Radio, Radio France, and ABC Radio Classic FM.
In addition to being an active performer, Magdalena Adamek is also a dedicated teacher. Currently, she has been serving as full-time piano faculty in Department of Music at Virginia Commonwealth University where she teaches chamber music, accompanying, and keyboard skills courses. She also continues to be involved in recital projects with the VCU faculty, guest artists, and students. A dynamic collaborator, Adamek has performed with numerous artists including Tanya Prochazka, Rex Richardson, Charles Castleman, Emmanuel and Pascale Feldman, and The Wilanow Quartet.
Before settling in Richmond, Magdalena Adamek served as piano instructor and collaborative pianist at the University of Alberta in Edmonton, the String Quartet Program at S.U.N.Y Fredonia, the Alberta Music Academy and the Alberta College Conservatory of Music (Grant McEwan University), and the Stanislaw Moniuszko Music Society Music School in Warsaw.
Adamek's students have received high marks at Royal Conservatory of Music piano examinations. They have been also recognized through awards and scholarships at the Edmonton Kiwanis Music Festival and at Provincial Music Festival, Alberta Registered Music Teachers Association High Exam Marks Awards, and gold medal for the highest exam mark in the province of Alberta, presented by The Royal Conservatory of Music.
For more information about the pianist please visit the following website: https://magdalenaadamek.ucraft.site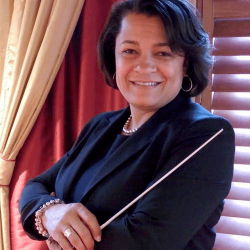 Christie-Jo Adams
Ensembles
Christie-Jo Adams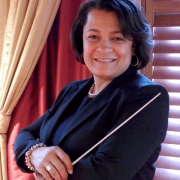 Strings Sinfonietta director Christie-Jo Adams is the Instructional Specialist for Fine Arts for Richmond Public Schools. Prior to this position she taught for 14 years in Richmond Public Schools and five years in Henrico County Public Schools at Brookland Middle School. She holds a Bachelor of Music Education degree from Longwood University and a Master of Education degree in Curriculum and Instruction from Averett University. Christie-Jo regularly receives invitations to guest conduct throughout the region including the Richmond Symphony and VCU Orchestra Project Summer Camp. She has served as an adjudicator for VBODA orchestra festivals and marching band competitions. As a violinist, she has been a member of the Petersburg Symphony and the Richmond Philharmonic. She continues to perform with her string quartet, the Classic Quartet. She is an alumnus of the Richmond Symphony Youth Orchestra Program, having played in the Youth Concert Orchestra and String Sinfonietta.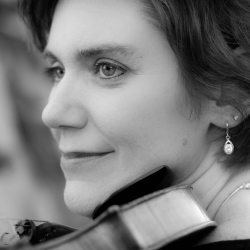 Alana Carithers
Chamber Music
Alana Carithers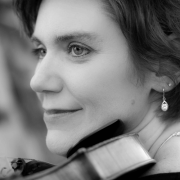 Alana Pritchard Carithers, violin, graduated in 1999 from Northwestern University with a double Master of Music degree in violin performance and pedagogy.
While in Chicago, she performed with the Civic Orchestra of Chicago and received her Suzuki certification with the renowned Betty Haag. She is a founding member of the MusiCorps program in Chicago, a grant-funded chamber music program to take music into the inner city schools and churches of the Chicago area. In 2005, she began Vivace!, a summer camp for students in the Richmond and Chesapeake areas. She began her orchestral career as the Associate Principal Second Violin of the Colorado Springs Symphony from 2000 – 2003. She was a member of the DaVinci String Quartet and the Hausmusik String Quartet, in addition to having a private teaching studio.
Alana has appeared as a guest soloist with the Bob Jones University Symphony Orchestra, Richmond Symphony Youth Orchestra, MasterWorks Festival Orchestra, and on the Millennium Stage at the Kennedy Center for the Performing Arts in Washington, DC. She has participated, programmed, and led chamber music, orchestral clinics, private lessons, and masterclasses throughout China, including at Sias University in Henan Province, and in Changsha, Hunan Province, Zhengzhou, Beijing, and Kunming. She has also done similar work at the University of the Nations in Kona, Hawaii. She plays several recitals each year throughout Virginia as a member of the Oberon Quartet in Residence at St. Catherine's School, and with the Atlantic Chamber Ensemble. She teaches in the Richmond area and has played with the Richmond Symphony since 2003.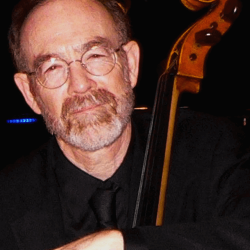 Neal Cary
Chamber Music
Neal Cary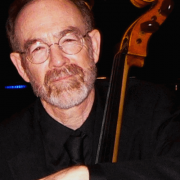 Neal Cary, a graduate of Catholic University and Juilliard, is Principal Cellist with the Richmond Symphony, Williamsburg Symphony Orchestra, and the Eastern Music Festival (Greensboro, NC). Neal has also performed as a member of the All-Star Orchestra, an orchestra comprised of some of the finest musicians in the United States. An avid chamber musician, he has been a member of the Richmond Chamber Players since 1989.
Previous to moving to Richmond, Neal was Co-Principal Cellist of the Kansas City Philharmonic, and Assistant Principal Cellist of the Tulsa Philharmonic, San Antonio Symphony, and the Denver Symphony Orchestra.
A former adjunct faculty member at Virginia Commonwealth University, Neal has been a member of the performing artist faculty at the College of William and Mary since 1991. In addition to his teaching at the collegiate level, he maintains a large private teaching studio, working with cellists of all ages and abilities.
In addition to his musical endeavors, Neal has worked as a civil rights activist for over 35 years (primarily related to atheist issues). In his role as chairperson of American Atheists, he has also worked to expand racial, sexual orientation, and gender identification diversity on both the board and staff.
Neal is married to Catherine Cary, a violinist in the Richmond Symphony. They have two children: daughter Emma, a cellist, and son Alan, a pianist and violinist.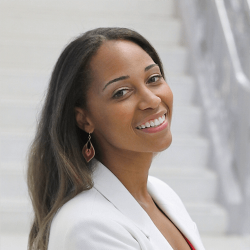 Dr. Leah Claiborne
Music History
Dr. Leah Claiborne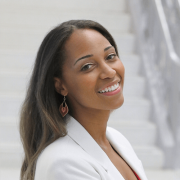 Leah Claiborne, D.M.A. promotes diversity in the arts by championing piano music by Black composers in her performances, research, and teaching. She is the Diversity, Equity, and Inclusion column editor for American Music Teacher. She also serves as Director of Diversity, Equity, and Inclusion for the Frances Clark Center/National Conference of Keyboard Pedagogy.
In 2019, Dr. Claiborne was named winner of the Father Merlet Prize in the ProMusics International Music Competition. This award was given to a competitor who exemplified high-performance excellence and an unparalleled commitment to social outreach. In 2016, she was a top prize winner in the National Association of Negro Musicians National Piano Competition. Dr. Claiborne has performed across the United States and Germany, Italy, the Czech Republic, and Japan. She is a highly sought-after adjudicator and clinician in national piano competitions.
Dr. Claiborne received her undergraduate degree from Manhattan School of Music, where she received the Josephine Whitmore graduation award. She received her Masters of Music and Doctorate of Musical Arts degrees at the University of Michigan. She was the first pianist to be awarded the Rackham Predoc fellowship, the most prestigious fellowship awarded by the graduate school. This fellowship allowed her to further research, compile, and edit piano music by Black composers.
Dr. Claiborne currently teaches at the University of the District of Columbia where she serves as coordinator of keyboard studies and teaches History of African American Music.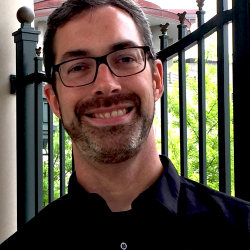 Christopher Farrell
Composition
Christopher Farrell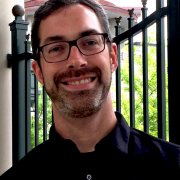 Composer, violist, and educator, Christopher Farrell has been a member of the Nashville Symphony since 1999. He received a Bachelor of Music from the University of North Texas under the tutelage of Dr. George Papich, and a Master of Music degree from Indiana University as a student of Atar Arad.
In addition to performing with the Nashville Symphony and ALIAS Chamber Ensemble, Christopher is an active studio musician and can be heard on numerous albums by an eclectic range of recording artists.
A veteran teacher of viola, chamber music, and composition, Christopher has taught in the Nashville Symphony Accelerando Program since its inception, where he is actively involved in fostering the growth of talented students from underrepresented ethnicities.
Christopher's compositions have been performed by ALIAS Chamber Ensemble, musicians of the Nashville Symphony, and Accelerando faculty and students, as well as musicians across the country. His music is frequently broadcast on WPLN (Nashville Public Radio), including performances on WPLN Classical's Live in Studio C.
In 2015, Christopher was awarded a Bonnaroo Works/Community Foundation of Middle Tennessee Grant by the Metro Nashville Arts Commission for the creation and recording of Needle and Thread, Trio for Flute, Viola, and Harp. Tennessee Roads for 6 String Electric Violin and String Quartet, recorded by ALIAS Chamber Ensemble, was made possible through funding from the Tennessee Arts Commission and National Endowment for the Arts. In 2020, Poem for One for Solo Viola was recognized by the American Viola Society's Maurice Gardner Composition Competition.
For more information, visit christopherfarrellmusic.com.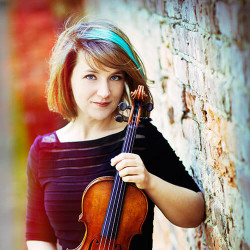 Treesa Gold
Music History
Treesa Gold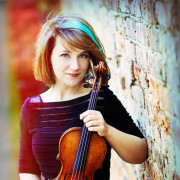 Treesa Gold is a vibrant performer in the Richmond area, performing frequently with the Richmond Symphony and recording with Spacebomb Studios. She is in the powerful string quartet, Rosette, a group that strives to make meaningful connections through music to diverse audiences. A great lover of opera and orchestra, she holds the position of concertmaster of the Opera on the James and a titled position with the Williamsburg Symphony. Before moving to Richmond, Mrs. Gold lived in New Orleans and was a member in the Louisiana Philharmonic Orchestra from 2004 to 2006.
Mrs. Gold is also a passionate Suzuki teacher with a strong belief in children's potential and its importance for the betterment of the world. She has been given the honor of teaching at many festivals, both nationwide and internationally. Treesa is married to double bass player, Matt Gold. In addition to classical music, they played together in the rock band, Goldrush, for six years. Treesa and Matt are also the happy parents to two children, Kit & Artemis.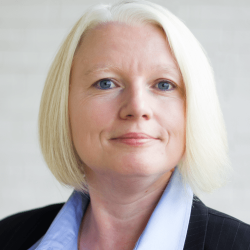 Sandy Goldie
Ensembles
Sandy Goldie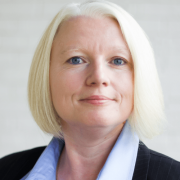 Sandy Goldie is Director of Music Education at Virginia Commonwealth University, President of Virginia Music Educators Association Higher Education Division, and serving as immediate Past President of the Virginia Chapter of the American String Teachers Association as the author of two popular books on string teaching and instruments. She is an active guest conductor/adjudicator and orchestra clinician across the United States. She is a frequent presenter at state, national, and international music education conferences such as Midwest, NAfME, ASTA, VMEA, ISAME, and TMEA. She takes great joy in working with the students of the Richmond Symphony Youth Concert Orchestra.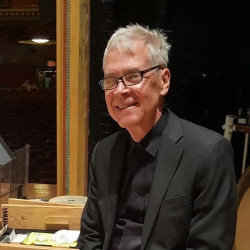 Clifton Hardison
Music History
Clifton Hardison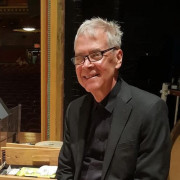 Cliff Hardison is the Principal Percussionist for the Richmond Symphony, a position he has held with the orchestra since 1999.
Mr. Hardison grew up in Norfolk/Virginia Beach, and has been in the music business since he was 15. He started out playing dinner theater in Norfolk and Virginia Beach, and began playing dances in various beach hotels with a club date band. While still a senior in high school, he won the principal percussion job with the new Virginia Opera. His high school teacher was John Lindberg, former timpanist of the Virginia Symphony.
Mr. Hardison attended The Juilliard School for both his Bachelor and Master of Music degrees, where his primary teacher was Saul Goodman, former timpanist of the New York Philharmonic. He also studied with Elden Bailey, Walter Rosenberger, and Roland Kohloff.
After graduating, Mr. Hardison played with the Mexico City Philharmonic Orchestra as Principal Percussion/Assistant Timpani for a year before deciding to return to New York City. Over the course of the next 20 years, Mr. Hardison built a very successful freelance career in New York playing on Broadway shows; recordings for radio, TV, and movies; and with many chamber and orchestra ensembles, including the New York Philharmonic, Orpheus Chamber Orchestra, American Symphony Orchestra, Orchestra of St. Luke's, Y Chamber Symphony, Philharmonia Virtuosi, New Jersey Symphony Orchestra, and the Opera Orchestra of New York. He continued his studies during that time with Christopher Lamb, Gregory Zuber, and Joe Morello.
In 1994, he won the position of Second Percussion with the Richmond Symphony. He continued to live in New York and commuted to Richmond one week out of every month for the next four years, until in 1999, with encouragement from colleagues here, he auditioned for and won the newly vacant Principal Percussion position. He moved here in 1999.
During his time here, Mr. Hardison has continued his studies, including attending the Bob Becker Ragtime Xylophone Institute for two summers, which opened up his intense love for the xylophone music of that era.
He lives with a three-year-old cocker spaniel named Bentley.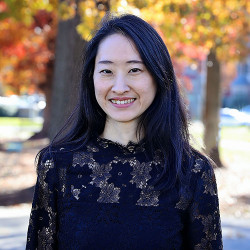 Michelle Huang
Piano
Michelle Huang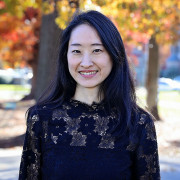 A native of Taiwan, pianist Michelle Huang holds a Bachelor of Music in Piano Performance from the University of North Carolina at Chapel Hill, Master of Music in Piano Performance from the University of Tennessee, and Doctor of Music in Piano Performance from Florida State University. Her mentors include Barbara Rowan, David Northington, and Read Gainsford.
Michelle Huang has performed and taught throughout the U.S. and abroad in the Czech Republic, Italy, Switzerland, and Taiwan. She has appeared as soloist and chamber musician in numerous recitals and has given lectures, workshops, and master classes. As an educator, she has held teaching positions at Walter States Community College and Lincoln Memorial University. She served as Assistant Professor of Piano at Edward Waters College in Jacksonville, Florida. In 2012, she launched a Concert Series at Edward Waters College in which high caliber performing artists performed concerts as well as conducting master classes, workshops, and lectures for the continuing enrichment and exposure of classical music to both the school and the community. Most recently, she served as adjunct piano faculty at Virginia Commonwealth University. During the summer, she is on the faculty of East/West International Piano Festival in Seoul, South Korea.
In addition to teaching in the collegiate setting, Huang also maintains a private studio, where she works with a group of pre-college students with immense talent.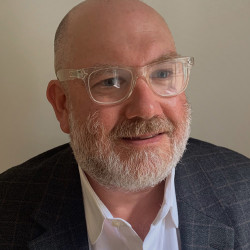 Brian Jones
Jazz, Music Theory
Brian Jones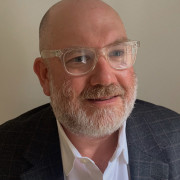 Brian Jones is a teacher/drummer/composer based in Richmond, VA. Brian received his PhD in American Studies from the College of William and Mary. His doctoral dissertation, Becoming Paul Motian: Identity, Labor, and Musical Invention focuses on the life and music of jazz drummer/composer Paul Motian. Brian recently taught two courses at William and Mary: "New Orleans: Musical and Cultural History" and "Improvising America: The Cultural Politics of Jazz in the Twentieth Century." Other research interests include Miles Davis' music in the 1970s, Sun Ra and Afrofuturism, the Meters and the New Orleans funk tradition, and Max Roach's political aesthetic. As a freelance performer, Brian has played with John Abercrombie, Houston Person, Peter Bernstein, René Marie, Mark Turner, Karrin Allyson, Darius Jones, Randy Brecker, Terell Stafford, and many others. He is currently on the music faculties of University of Richmond, College of William and Mary, and Old Dominion University.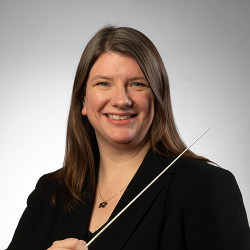 Melissa Jones
Ensembles
Melissa Jones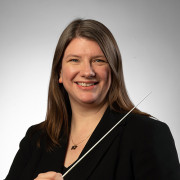 Melissa Jones is delighted to direct the Sinfonietta String Ensemble with the Richmond Symphony School of Music and its Youth Orchestra Program. She received music degrees from the Eastman School of Music and the University of Tennessee. She taught Strings in Hanover County Public Schools for sixteen years and is currently in her 3rd year as current director of Orchestras at Collegiate School in Richmond, VA. She has guest conducted for honors school programs in Virginia and has served as an adjudicator for state-wide orchestra assessments. Ms. Jones is especially driven to explore and appreciate a diverse set of music styles and genres as applied to our orchestral instruments. 
Ms. Jones maintains a private studio of violin and viola students and is an active musician in the Richmond scene. Her current musical project is performing with the local indie rock band, Timothy Bailey and the Humans; she enjoys being a violin playing human. She has participated in many album recordings and has performed with local and regional orchestras on violin and viola.  
Ms. Jones is a member of The National Association for Music Education, the Virginia Band and Director's Association, and the American String Teachers Association. Melissa resides in Ashland, VA with her husband, Aaron, and two sons, Charlie (4) and Ezekiel (23), where they enjoy spinning records, making up songs, and building epic lego creations.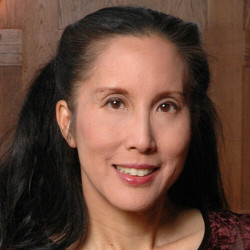 Dr. Joanne Kong
Piano
Dr. Joanne Kong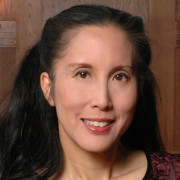 Pianist Joanne Kong's performances have been praised for "great finesse and flexibility" (The Washington Post), "superb" playing (The Boston Globe), "utmost keyboard sensitivity and variety of tone" (Richmond Times-Dispatch), and "superb artistry" (San Antonio Express-News) for works "sensitively played" (The New York Times).
Kong has performed to critical acclaim at numerous venues including the Los Angeles and Oregon Bach Festivals, Memphis Chamber Music Society, San Antonio Festival, Los Angeles Monday Evening Concert Series, Virginia Waterfront International Festival of the Arts, the Royal Netherlands Embassy, National Gallery of Art Concert Series in Washington, D. C., Strathmore Hall's "Music in the Mansion" series, Columbia University, Harvard University, the Conservatorio Dall'Abaco in Verona, Italy, the Melk Abbey Summer Concert Series, Baden's Haus der Kunst in Austria, and the International Festival of Orchestras and Youth in Cartagena, Colombia. She was the Grand Prize Winner in the 1985 International Piano Recording Competition for her performance of Beethoven's Diabelli Variations, was a Laureate in the 1983 National Beethoven Foundation Fellowship Auditions, and premiered Side by Side, the first concerto to feature a soloist in a dual role as pianist and harpsichordist. Written by Pulitzer Prize – winning composer Michael Colgrass, the unique work was co-commissioned by the Richmond Symphony, Boston Modern Orchestra, and Esprit Orchestra. Kong performed with the University of Richmond's Dr. Mike Davison and President Ronald Crutcher on a 2017 concert tour of Cuba, in 2015 she travelled to Brazil for a 10-day concert and teaching tour under the auspices of the Partners of the Americas and the U. S. State Department, and she toured India as a guest lecturer and pianist during the Summer of 2018.
A gifted collaborator, she has performed with numerous artists including the Shanghai String Quartet, Eugenia Zukerman, cellist James Wilson, violinist Karen Johnson, and 4-time Grammy Award – winning ensemble Eighth Blackbird.
Dr. Kong's piano students have been award recipients at state, national and international-level competitions, and she is in frequent demand as a chamber, instrumental and vocal coach, including guest teaching at the Colburn School, Yale University, New England Conservatory, New York University and the Global Summer Institute of Music. Currently she is the director of the accompanying and chamber music programs at the University of Richmond.
Website: www.joannekongmusic.com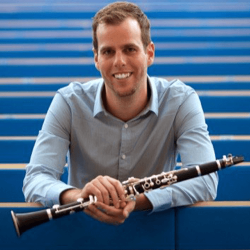 David Lemelin
Chamber Music
David Lemelin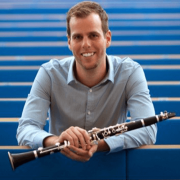 David Lemelin is currently Principal Clarinetist with the Richmond Symphony. Before joining the RSO, David was 2nd/E-flat Clarinetist with the Vancouver Symphony Orchestra and also previously served a four-year fellowship with the New World Symphony in Miami Beach.
In addition to performing, David regularly gives masterclasses and lessons at Virginia Commonwealth University, Richmond Symphony School of Music, and Williamsburg Youth Orchestras as well as having an active private studio.
David received his Master of Music from DePaul University in Chicago and his Bachelor of Music from McGill University in Montreal, both in Clarinet Performance.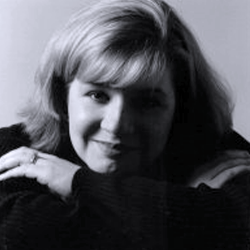 Dana McComb
Music Theory
Dana McComb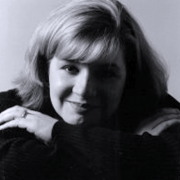 Canadian-born cellist Dana McComb has performed as a chamber musician, recitalist, and orchestral musician in venues across North America.
An avid teacher, Dana has held faculty positions at the Royal Conservatory of Music in Toronto and the Eckhardt-Gramatté Conservatory, and is currently on faculty at Virginia Commonwealth University and teaches privately in Richmond. She is the creator of the online theory program, "Theory is Fun RVA." Her students have represented the state of Virginia in the MTNA Competitions at the regional level for both the Junior and Senior String divisions, and at the Nationals Finals for the Junior level. They have performed at Carnegie Hall, performed as soloists with the Richmond Symphony and the Richmond Symphony Youth Orchestra, and have attended universities and music festivals around the world. Her students participate in all levels of the YOP program. Dana works regularly with the Richmond Symphony Youth Orchestra Program and the Youth Orchestras of Central Virginia, is sought after as a clinician in schools around Virginia, and has been a jury member of the state and regional level MTNA Competitions.
Dana holds Bachelor of Music and Master of Music degrees from the San Francisco Conservatory of Music where she studied with Irene Sharp and Bonnie Hampton, and an Associate Diploma from the Royal Conservatory of Music where she studied with David Hetherington.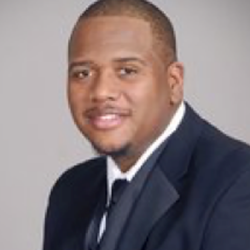 Christopher Moseley
Ensembles
Christopher Moseley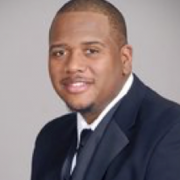 Christopher Moseley is the Education Specialist for Performing Arts at Henrico County Public Schools in Henrico County, VA. He is a graduate of Huguenot High School in Richmond, VA and earned his Bachelor of Arts in Music Education degree from Bethune-Cookman University in Daytona Beach, FL. He holds a Masters of Music from Virginia Commonwealth University and a Post-Masters Certificate in Educational Leadership and Administration from The George Washington University.
Christopher has conducted for the Richmond Symphony Youth Orchestra Program since 2015 and currently conducts the Wind Ensemble. Additionally, he serves as conductor for the Richmond Police Athletic League Band and music director for the Richmond Nativity Pageant. Christopher has served as a guest conductor, clinician, and adjudicator for various school divisions, as well as the Virginia Band and Orchestra Directors Association and the Florida Bandmasters Association. In 2019, Christopher was selected as "Teacher of the Year" for Varina High School and "Music Educator of the Year" for Henrico County Public Schools.
Christopher has performed on the 20th Century Fox movie Drumline, the Ellen DeGeneres Show, ESPN, EA Sports Video Games, MTV, BET, The Word Network, and at Walt Disney World. As trumpeter in the QuintEssential Jazz Ensemble/Trademark Band, he maintains an active performing schedule. Christopher enjoys traveling and spending time with his wife Erika and their children Jordyn and Josiah.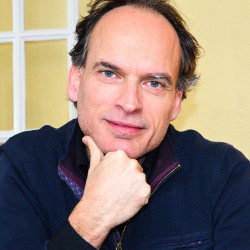 Daniel Myssyk
Ensembles
Daniel Myssyk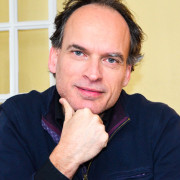 Professor Daniel Myssyk is the Assistant Conductor of the Richmond Symphony and Director of the Richmond Symphony Youth Orchestra. He has been Virginia Commonwealth University's Director of Orchestral Activities since 2007, and he has a well-honed passion for music education. In addition to his work at VCU, he is a regular collaborator with Senior Regional Orchestras, the All-Virginia State Orchestra, and the Hampton Roads Chamber Players, among others.
Daniel's approach to working with students combines quick problem-solving techniques with detail-oriented work, oftentimes peppered with a touch of humor. He finds this approach best to maintain the group's attention and willingness to try their best to accommodate the many challenges young musicians face in the process of making music in an ensemble setting.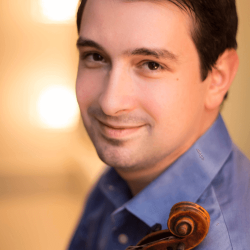 Adrian Pintea
Music Listening
Adrian Pintea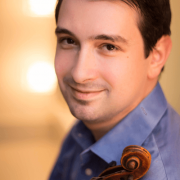 Romanian violinist Constantin Adrian Pintea has performed throughout Europe and the United States as a soloist and chamber music player. Adrian won his first national prize at the age of 12 and was a prize recipient at the Jeunesses Musicales and Remember Enescu international competitions. He was accepted at The Juilliard School for his undergraduate studies and, after completing his Bachelor's Degree, was awarded the Eugenia and David Ames Concertmaster Fellowship at the Mannes School of Music. He has performed regularly as a chamber player in major halls such as Alice Tully Hall, the Morgan Library & Museum, and Weill Recital Hall at Carnegie Hall.
Adrian has also participated in several music festivals, including the Breckenridge Music Festival, Mozarteum Academy in Salzburg, and the Texas Music Festival, where he was a prize recipient of the Cynthia Woods Mitchell Young Artist Competition. After completing his studies, Adrian joined the New World Symphony where he had the opportunity to serve as concertmaster under the baton of Michael Tilson Thomas and Esa-Pekka Salonen, among others. After being named Associate Concertmaster of the Richmond Symphony, Adrian opened a violin studio teaching intermediate to advanced students with a focus on music development and appreciation. He also works frequently with the Richmond Symphony Youth Orchestra Program coaching sectionals and ensemble rehearsals.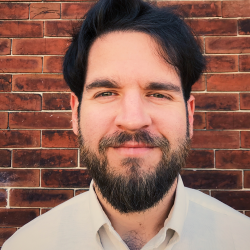 Andrew Randazzo
Jazz, Music Theory
Andrew Randazzo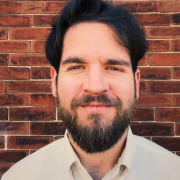 Andrew Randazzo is more than just a bassist, composer, and recording engineer. Above all else, he is a music lover. Currently residing in Richmond, VA, he makes a living as a multi-genre freelance acoustic and electric bassist, educator, and full-time member of the soul fusion quartet Butcher Brown. Andrew's musical mission in life is to provide every musical situation with an infectious groove, rooted in tradition, but also stretching the boundaries of the future of music. His passion for teaching is fueled by his desire to continue to pass down the oral tradition of his art form.
Currently, Andrew spends his time playing with Butcher Brown and many other local groups. He maintains a private studio of local students teaching everything from upright bass to arranging for large ensembles. He also spends time writing music for and leading his own project, the R4ND4ZZO BIGB4ND, a 16-piece big band ensemble playing all original arrangements of music spanning from mid-20th century to modern day.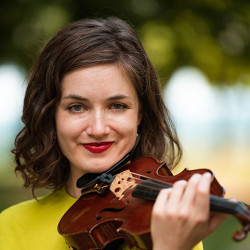 Ellen Cockerham Riccio
Music Listening
Ellen Cockerham Riccio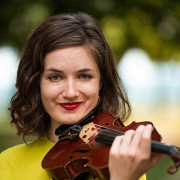 Ellen Cockerham Riccio has served as Principal Second Violin of the Richmond Symphony since 2009. Previously, she served as Principal Second Violin in the Canton (Ohio) Symphony Orchestra and in CityMusic Cleveland. According to the Commercial Appeal, Ellen's "exquisite" performance of Strauss' Ein Heldenleben as guest concertmaster of the Memphis Symphony in 2013 exhibited "an extraordinary range of expression."
In 2012, Ellen founded Classical Revolution RVA, the Richmond chapter of a global movement to bring classical music performances to non-traditional venues. By the time she resigned as Executive Director in 2018, the organization had grown to include over 300 musicians, produced more than 100 unique events, and established the annual Mozart Festival, a free, day-long event that brings live performances of Mozart's symphonies, operas, and chamber music to bars, coffee shops, and art galleries.
A native of Portland, Oregon, Ellen holds a bachelor's and a master's degree in violin performance from the Cleveland Institute of Music, where she was a student of William Preucil, former concertmaster of the Cleveland Orchestra.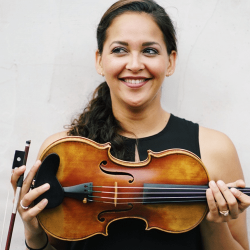 Meredith Riley
Jazz
Meredith Riley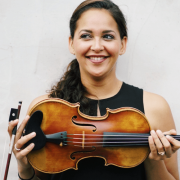 Meredith Riley is Assistant Principal Second Violin in the Richmond Symphony. Meredith enjoys a varied career as an orchestral player, chamber musician, teacher, jazz violinist, and musical collaborator. Previously, Meredith was a member of the Erie Philharmonic and Canton Symphony Orchestra, and appeared as guest Concertmaster of Johnstown Symphony Orchestra while completing graduate studies at Carnegie Mellon University under the direction of Andrés Cárdenes. Meredith received her BMus in Violin Performance at the University of Texas.
Meredith toured with the Sphinx Virtuosi throughout the US in 2016 – 2018, each year performing in the country's most renowned concert halls including Carnegie Hall, Ordway Concert Hall, Kennedy Center, New World Center, and more. As a devoted chamber musician, Meredith has performed with the Smithsonian Chamber Players on one of the Axelrod Stradivarius violins in Washington, DC, and with the Chamber Music Society of Central Virginia. In Richmond, she participates in local shows hosted by Classical Revolution RVA, and she records frequently with Spacebomb Records.
Meredith's accolades include recognition in the Young Texas Artists Awards, Crescendo Music Awards, and the Sphinx Competition; and selection as a Bank of America Fellow for the National Alliance for Audition Support's inaugural program in 2018, and a Young Artist for the Starling-DeLay Symposium at The Juilliard School. Solo appearances include those with the Cayuga Chamber Orchestra, Syracuse Symphony Orchestra, New England String Orchestra, and both University of Texas orchestras.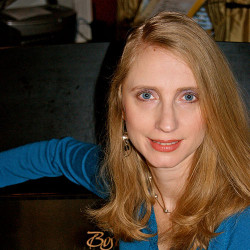 Jennifer Scott
Piano
Jennifer Scott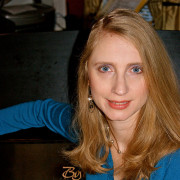 Jennifer Scott is a classically trained pianist and professional piano instructor for over 15 years in Richmond, VA. As a National Certified Teacher of Music, Jennifer maintains a private piano studio with students from beginner level through advanced, both young and adult. Her lessons focus on a student's well-rounded and quality music education to last a lifetime. She devotes time developing their proficiency in technique, musicality, sight reading, music theory, and piano performance. Her students consistently receive the highest ratings each year from piano judges in local or state judged events, festivals, or competitions. Above all, she teaches with great joy, enthusiasm and a love for music and her students.
While maintaining her private studio, Jennifer is an active member of the Richmond Music Teachers Association and the Virginia Federation of Music Clubs. She has held various leadership positions, such as President, Vice President, Membership Chair, Secretary, and Theory Chair of our Richmond organization. She also serves as an adjudicator for piano festivals and events each year. In 2020, Jennifer was awarded the MTNA Piano Technicians Guild Teacher Scholarship for her continued contributions in the music field.
Jennifer holds a Bachelor of Music degree from James Madison University where she studied with Dr. Eric Ruple. In 2015, she received MTNA's National Certification for Piano and continues to uphold the high standard of professionalism in all of her work in music.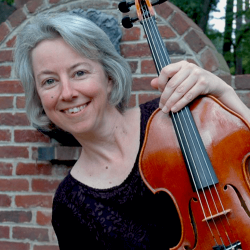 Molly Sharp
Chamber Music
Molly Sharp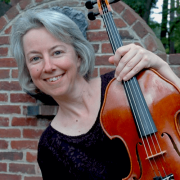 Molly Sharp, Principal Violist of the Richmond Symphony, teaches viola at Virginia Commonwealth University and was the violist of the Oberon String Quartet for 24 years. Molly is also the creator of VlaTutti, which provides resources for violists that elevate teaching, learning, and performing through the joy of collaboration.
A native of Fayetteville, AR, Molly received a Bachelor's Degree from Vanderbilt University/Blair School of Music, and her Master's Degree from the Cleveland Institute of Music.
A dedicated and experienced teacher, Molly is on the faculty of Virginia Commonwealth University. She has given masterclasses at the University of Virginia, Violapalooza at VCU, Texas Tech University, and the Chicago Viola Festival, as well as many public schools in the Central Virginia area. As a faculty member at String Odyssey, a camp administered by the Richmond Symphony and Virginia Commonwealth University, Molly regularly provides sectionals, private lessons, masterclasses, and chamber music coachings to all levels of students.
Most recently Molly created the Virtual Viola Group Warmup, which ran from March-August to keep violists world-wide motivated, connected, and playing throughout the quarantine.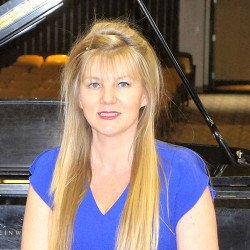 Ruta Smedina-Starke
Piano
Ruta Smedina-Starke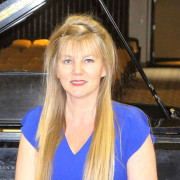 Ruta Smedina-Starke is a native of Latvia where she studied the piano at Yelgava City Music College. She holds a Bachelor of Arts in English degree from the University of Riga, Latvia and a Master of Music in Piano Performance degree from VCU. Her main teachers are Larisa Olshtinskaya, Dr. Sonia Vlahcevic and Dr. Dmitri Steinberg.
Smedina-Starke is a member of Pi Kappa Lambda. She is a Nationally Certified Teacher of Music and the recipient of the Jordan Kitt's Music 2006 Educator Grant and RMTA Teacher of the Year Awards for 2014 and 2018.
Smedina-Starke has been an adjunct faculty member at the VCU Department of Music for 12 years where she taught the piano. She has a private piano studio where she works with talented young pianists.
Smedina-Starke has given many solo piano recitals as well as lecture-recitals at VCU, Richmond Public Library and for the MCV Department of Gastroenterology. The titles of her lecture- recitals from 2006-2017 are the following : "Carl Maria von Weber and the Konzertstűck for the Piano Op. 79", "Peter Ilyich Tchaikovsky and The Seasons for the Piano Op. 37b", "Robert Schumann: Scenes fro Childhood Op. 15" and "Maurice Ravel: Mother Goose Suite".
In 2015 and 2017 she presented lecture-workshops at the VCU Global Summer Institute of Music, as well as VCU Piano Fest. She has been featured clinician at the WVMTA and VMTA conferences of 2016 and WVMTA and VMTA virtual conferences of 2020 on topics about mastering Russian Piano Technique.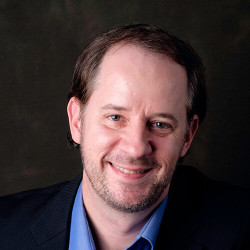 Dr. Paulo Steinberg
Piano
Dr. Paulo Steinberg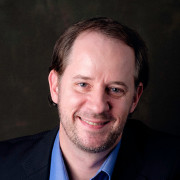 Paulo Steinberg has performed as a soloist and as a collaborative pianist across the U.S., Canada, South America, and Europe. A native of Brazil, he is Professor of Piano at James Madison University and teaches at the Saarburg Chamber Music Festival in Germany in the summer. He holds a Doctor of Music degree in Piano Performance from Indiana University where he studied with Belgian pianist Evelyne Brancart. Three recordings have been released recently –The Recital Clarinetist in collaboration with clarinetist Dr. Janice Minor, his solo CD album Alma Brasileira, and Time, Place, Spirit in collaboration with flutist Dr. Beth Chandler. He also collaborated with clarinetist Dr. Sarunas Jankauskas on his album Duos.
For links to recordings and videos: www.paulosteinberg.com.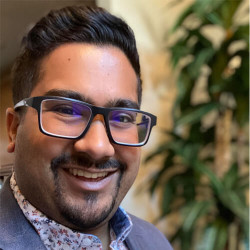 Aaron Todd
Vocal
Aaron Todd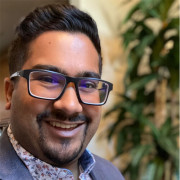 Aaron Todd is a professional singer, conductor, and music educator. He serves currently as Choral Director at Douglas S. Freeman High School in Henrico County and Tenor Section Leader of the Richmond Symphony Chorus. He graduated from Mills E. Godwin High School and earned his B.M. in Choral Music Education from James Madison University, where he studied choral conducting with Dr. W. Bryce Hayes and Dr. Jo-Anne van der Vat-Chromy. He served as President of the JMU Chapter of the ACDA, an undergraduate conductor for the Men's Chorus, founded a student A Cappella group, and participated in professional choral conducting workshops with Rodney Eichenberger and Charles Bruffy. He is currently finishing work toward his Kodály Teaching Certification from JMU. Prior to arriving at Freeman High School, Aaron taught Choir and Orchestra at Tuckahoe Middle School in Henrico and Lucille Brown Middle School in Richmond.
Aaron's philosophy of music education is student-centered and focused on not only fostering the musical skills of young people, but also on cultivating their love of music and encouraging them to become the best and truest version of themselves. A passionate advocate for music literacy and independent musicianship, he regularly incorporates solfège and music theory into pedagogical sequences for teaching and learning choral music. Aaron is an avid fan of barbershop singing, enjoys reading (especially mystery/crime novels), and The Office is his favorite TV show. He lives in Glen Allen with his puppy, Riley.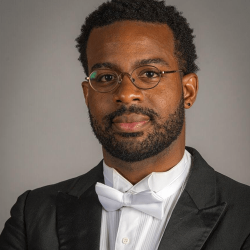 Titus Underwood
Music History
Titus Underwood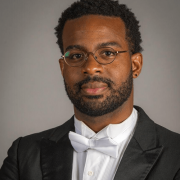 Titus Underwood is Principal Oboe of the Nashville Symphony. Prior to the Nashville Symphony, he was Acting Associate Principal Oboe of the Utah Symphony. He received his Master of Music from The Juilliard School, where he studied with Elaine Douvas, and additional studies with Nathan Hughes and Pedro Díaz. He earned his Bachelor of Music at the Cleveland Institute of Music as a pupil of John Mack. There he also studied with Frank Rosenwein and Jeffrey Rathbun. In 2013, he received his artist diploma from the Colburn School with Allan Vogel. Additional teachers include Anne Marie Gabriele, Robert Atherholt, and Joseph Robinson. Titus has performed with a wide array of major symphony orchestras across the United States. He has also played principal oboe in Chineke! Orchestra, Gateways Music Festival, and Bellingham Festival of Music.
Titus has been teaching music lessons and classes, and coaching chamber music since he was a student at the Cleveland Institute of Music in 2006. He has maintained a private studio and taught in precollege programs at CIM, Juilliard, and the National Youth Orchestras program at Carnegie Hall. He has taught in the Nashville Symphony's Accelerando program since 2017, and he teaches and mentors for the National Alliance for Audition Support program maintained by the League of American Orchestras, the Sphinx Organization, and the New World Symphony. Titus has been a regular speaker and participant in the annual SphinxConnect conference since 2017, and in the Gateways Music Festival since 2015.
Titus is a 2021 recipient of the Sphinx Medal of Excellence award.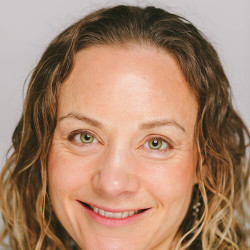 Jocelyn Vorenberg
Music Wellness
Jocelyn Vorenberg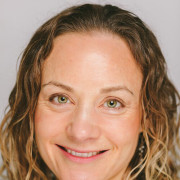 Jocelyn Vorenberg obtained her certification from AmSAT (American Society for the Alexander Technique, 
amsatonline.org
), the largest professional organization of Alexander Technique teachers in the United States. Certified teachers complete 1600 hours of coursework. Jocelyn currently has a private practice and leads workshops in the Alexander Technique to children and adults. You can currently take online classes via Zoom for 
Violin
 or The Alexander Technique.
In addition to her passion for teaching online both the Alexander Technique and violin, Jocelyn has been a violinist with Richmond Symphony since 2003. She frequently plays solo and chamber music recitals with colleagues throughout the country.
She holds degrees from Interlochen Arts Academy, Rice University, and the Cleveland Institute of Music, and a doctorate from The Catholic University of America. Jocelyn has taught at Virginia Commonwealth University, Interlochen Summer Arts Camp, The Cleveland Institute of Music Preparatory Program, and The Eastern Music Festival in Greensboro, North Carolina.
When not performing or teaching (currently online), she enjoys being active in the pool, outside, and on a yoga mat. She is the lucky mother of 7-year-old twins, Avery and Campbell, and wife to 
Andy Vorenberg
, a colorectal surgeon in Richmond, VA.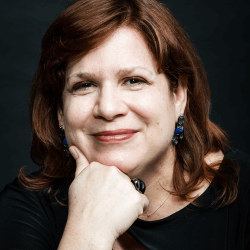 Lynette Wardle
Chamber Music
Lynette Wardle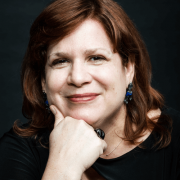 An orchestra harpist, chamber musician, recording artist, soloist, and teacher, Lynette Wardle enjoys a varied and rewarding career in music. She has been recognized for her "refined tone production and spot-on rhythmic sense." In addition to being the principal harpist of both the Richmond Symphony and the Albany Symphony, she performs regularly with the New Jersey Symphony Orchestra and the New York City Chamber Orchestra. She is on the harp and piano faculty at Riverdale Country School, and loves being involved with coachings, sectionals, and side-by-side experiences with all of these orchestras. Sharing helpful tips and experiences merges the practice world with real-life performing skills. These kinds of experiences make lasting impressions and provide tools for success. Lynette holds a Masters Degree in Orchestral Performance from Manhattan School of Music, and is grateful to all of her amazing teachers and coaches.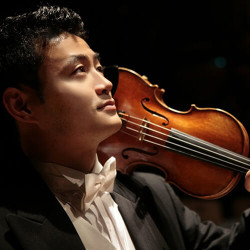 Daisuke Yamamoto
Music Listening
Daisuke Yamamoto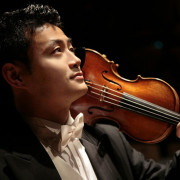 Violinist Daisuke Yamamoto, known for exhibiting "immense virtuosity and probing musicianship," is originally from Marietta, GA. Concertmaster of the Richmond Symphony since 2013, he has been featured as a soloist on several occasions since his arrival, including a performance of the Theme from Schindler's List for the Holocaust Remembrance Concert, which was broadcast statewide. Other performances include Saint-Saëns' Introduction and Rondo capriccioso, Ravel's Tzigane and Vivaldi's "Autumn" from The Four Seasons. Before coming to Richmond he was a member of the New World Symphony. While at New World, he soloed with the orchestra, performing Bruch's Scottish Fantasy. He has also collaborated with Jaime Laredo in a performance of Vivaldi's Concerto for Four Violins. He was also hand-picked by Michael Tilson Thomas to participate in the Thomashefsky Project, an homage to Tilson Thomas's grandparents who were pioneers of the American Yiddish Theater. The project was recorded for DVD and was aired on PBS Great Performances. He was also invited to Medellín, Colombia, where he led sectionals and masterclasses as well as performed Mozart's Violin Concerto No. 5 with the Orquesta Filarmónica de Medellín.
An avid orchestral performer, he has performed with many orchestras across the US, including The Cleveland Orchestra on numerous occasions both on tour and in Cleveland, New World Symphony, and the Spokane Symphony. As a concertmaster, he has led the New World Symphony on several occasions both at the New World Center and the Adrienne Arsht Center, Louisville Symphony Orchestra, Spokane Symphony, Youngstown Symphony Orchestra, and the Blossom Festival Orchestra. His performances have taken him to many great concerts halls in America and Europe, including Carnegie Hall, Severance Hall, Benaroya Hall, Suntory Hall, Festspielhaus and the KKL Luzern Concert Hall. He has worked with such notable conductors as Michael Tilson Thomas, Franz Welser-Möst, Fabio Luisi, Osmo Vänskä, Nicholas McGegan, Robert Spano, Jeffrey Tate and David Zinman. As a chamber musician, he has collaborated with Robert McDuffie, Ida Kavafian, Peter Wiley, Steven Tenenbom, Jasper String Quartet, members of The Cleveland Orchestra, Tokyo String Quartet, Duo Patterson and Jerry Wong.
Yamamoto currently resides in Richmond with his wife, who is a math teacher at Atlee High School, and their 2 cats.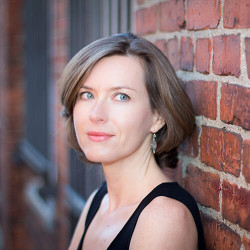 Dr. Maria Yefimova
Piano
Dr. Maria Yefimova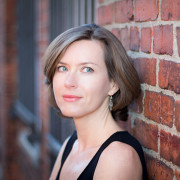 Internationally acclaimed pianist Maria Yefimova has performed in Italy, Spain, England, Slovakia, Croatia, Russia, and the United States. She appeared in such major venues as Carnegie Hall, Moscow Tchaikovsky Conservatory Malii and Rachmaninoff Halls, Steinway Hall (NYC), Teatro Puccini di Merano (Italy), Lisinsky Hall (Zagreb), and Slovak Philharmonic Hall. Her performances have been described by critics as "brilliant" (Novosti, Russia), filled with "passion and energy" (America Oggi), "vitality and rhythmic swagger" (New York Concert Review), "highly artistic" (Virginia Gazette), and "truly outstanding" (Berkshire Review for the Arts).
Ms. Yefimova has been featured on Bravo TV network, Tele Monte Orlando (Italy), Paradise Radio (USVI), Slovak National Television, WCVE public radio, as well as on major TV art networks in Argentina, Brazil, Colombia, Venezuela, Mexico, and Chile. She is a featured artist in a film documentary Women of Music- a classical music series that presents performances and interviews with today's top artists from around the world.
Ms. Yefimova's festival appearances include Virginia Arts Festival, Meranofest and Vello Music Festivals in Italy, Rachmaninoff Festival in Russia, Water Island Music Festival in USVI, Chamber Music Institute in VA, and Lake George Music Festival in NY. As an orchestral soloist she performed with Slovak Philharmonic, Tambov Philharmonic, and William and Mary Symphony Orchestras, in concertos by Mozart, Liszt, Brahms, Rachmaninoff, and Prokofiev.
As an avid chamber musician, Maria has collaborated with such prominent artists as trumpet virtuoso Joe Burgstaller (Canadian Brass), violinist Dmitri Berlinsky (Paganini Gold medalist), cellist Eric Jacobsen (Brooklyn Rider Quartet, the Knights Orchestra), and worldrenowned pianist and pedagogue Boris Slutsky. She is a founding member of the Atlantic Chamber Ensemble (ACE). Described in Chamber Music Magazine as "truly remarkable and innovative", the group is rapidly gaining recognition for its creative approach in presenting concerts and finding new ways to engage audiences and the local community. ACE is a winner of the 2014 Chamber Music America and ASCAP's adventurous programming award.
A native of Russia, Ms. Yefimova graduated with honors from Moscow Tchaikovsky Conservatory. After receiving a full scholarship from the Manhattan School of Music she moved to the US to pursue her Master's and Doctor of Musical Arts Degrees. Maria's principal teachers include Arkady Aronov, Yury Slesarev, Nina Dunaeva, and Yelena Tatulian.
Ms. Yefimova is on the piano faculty of the College of William and Mary and maintains a private studio at her home in Glen Allen, VA. She is the recipient of the "Best Teacher" Award from The X International Tchaikovsky Competition for Young Musicians (2017) and the "Achievement Award" from the Richmond Music Teachers Association (2019). Maria is a multi-year recipient of the Virginia Commission for the Arts Touring Grant.