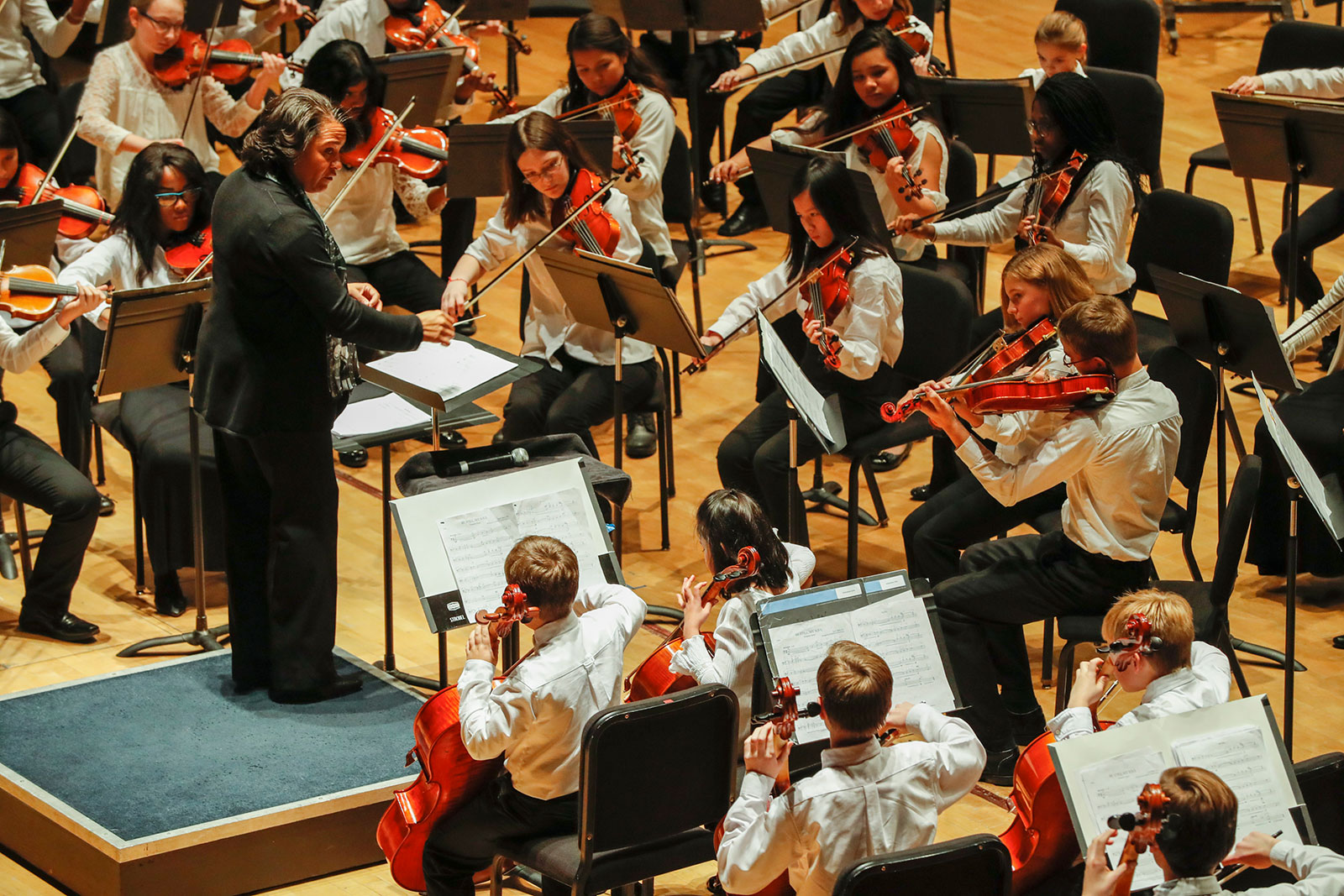 Welcome to The Richmond Symphony School of Music
FOUNDED IN THE SUMMER OF 2020, the Richmond Symphony School of Music (RSSoM) is now in operation as a virtual music school open to the public. Together, we aspire to provide a broad range of programming to Central Virginia, the Commonwealth, and beyond, and to establish the foundation upon which a brick-and-mortar community music school will be established in the future.
During our first year, over 400 students attended more than a dozen offerings: digital ensemble classes based on our pre-COVID youth orchestras; precollege chamber music, music theory, and composition classes; and evening classes for adults — with a vision for more in the future. As a virtual music school, we utilize videoconferencing software and an array of both digital and traditional resources to supplement instruction and exploration, and to facilitate real-time lessons and classes.
A diverse and dedicated team of musicians, students, teachers, parents, administrators, and music education professionals representing our region's leaders in the field continue to develop our plans for growth in 2021 and beyond.
Our sincere hope and dream is that RSSoM will grow to take its place among Richmond's many fine institutions as a hub of a spectrum of activities, where music education is accessible to all and where all styles and traditions of music are valued, respected, and pursued with dedication, passion, and love: "changing lives through the power of music."
Interested in joining our Youth Orchestra Program?

Contact Ms. Jennifer Tobin, YOP Manager at:

Virtual auditions for the 2021-2022 season:
Tuesday, June 15 @ 5pm
Tuesday, June 22 @ 5pm

RICHMOND SYMPHONY VISION STATEMENT:
We change lives through the power of music.
RICHMOND SYMPHONY MISSION STATEMENT:
The Richmond Symphony performs,
teaches, and champions music to inspire and
unite our communities.
RICHMOND SYMPHONY SCHOOL OF MUSIC
PRINCIPLES & VALUES
CORE VALUE:
Create lasting human connections, strengthen interpersonal relationships, and enrich human lives through the unique power of music
Belief that everyone should be able to benefit from music and music-making.
Create a positive impact in our community by participation in music: listening and making music, at all levels.
CORE VALUE:
Access and service to all members of the community
Welcome people of all ages, races, orientations, and social backgrounds to experience the joy of music.
Provide a continuum of programming, from birth to adulthood.
Develop a comprehensive portfolio that includes courses in history, theory, and composition; private and group pedagogy instruction; and ensemble playing.
Offer opportunities for scholarship and financial assistance.
Make resources available to educators and parents seeking to supplement their students' public, private, or home education.
CORE VALUE:
Diversity, equity, and inclusion
Present education and performance opportunities that represent a wide variety of musical styles and traditions, including both instrumental and vocal instruction.
Seek partners and collaborators whose experience and knowledge add new dimensions and color to the evolving story of classical music.
CORE VALUE:
Excellence in performance and education
Provide unparalleled opportunities to engage with and learn from renowned guest artists, composers, and our own talented corps of professional musicians.
Develop all offerings according to industry best practices, with special focus on innovation.
Support students in their musical journey no matter their skill level or stage, and encourage them to continually strive for personal excellence.
Interested in joining our Youth Orchestra Program?

Contact Ms. Jennifer Tobin, YOP Manager at:

Virtual auditions for the 2021-2022 season:
Tuesday, June 15 @ 5pm
Tuesday, June 22 @ 5pm


Music Explorations
A free series featuring guest artists and experts
in the music industry
Stay tuned for our next event!